What is the EU Tyre Label?
All new car, van, 4x4 and SUV tyres manufactured since mid-2012 carry a tyre label to let drivers know a little more about their performance. The labelling system was created to help drivers make a more informed decision when choosing new tyres for their vehicle.
In many ways the label is similar to the energy stickers that appear on white goods like fridge freezers to rate their energy efficiency. Every tyre is different and not all tyres offer the same level of performance. The EU tyre label provides objective and comparable information about the tyre's performance in three key areas:
Fuel Efficiency – how often will you need to refuel?
Wet Grip – what is the braking distance of the tyre on wet roads?
Exterior Noise - How loud is the tyre?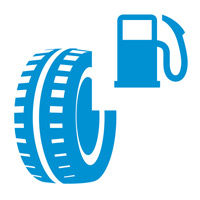 Fuel Efficiency
Fuel efficiency tells you how economical the tyres are in terms of fuel consumption. The tyre fuel efficiency rating is a measure of how much rolling resistance the tyre produces. Just as a ball won't bounce as high on the second bounce, tyres lose energy as they travel along the road.
For example, if you are travelling at 30mph, put the car into neutral and let it roll to a natural stop, tyres with high rolling resistance will come to a stop much quicker than those with reduced rolling resistance. As a result, they will require more energy (fuel) to provide forward momentum.
A-rated tyres have the least rolling resistance, while G-rated tyres have the most. When comparing the fuel consumption of A-rated and G-rated tyres, the difference is approximately 0.5 litres per 100km. This equals a saving of around 80 litres and more than £110 per year.*
* Based on a petrol engine car travelling 10,000 miles per year with £1.40 per litre fuel cost.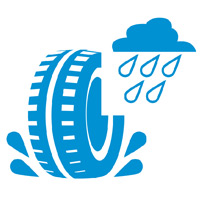 Wet Grip
Wet grip refers to the safety performance of tyres and how good they are at braking on a wet road. Tyres with good grip in wet conditions have reduced braking distances on slippery roads, which is essential for your safety when you're driving in the rain.
The EU tyre labelling system rates tyres based on the distance travelled by the car after braking at 50mph in wet conditions, and the tyre wet grip rating runs from A to G. A 30% improvement in braking distance can be expected between a G rating and an A rating when four tyres are fitted to the average passenger car.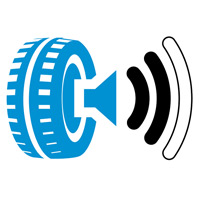 Exterior Noise
This is a measurement of how much noise the tyre produces when in motion, but it's important to point out that this refers to external noise only. The noise level experienced by the driver inside the vehicle is not measured.
Exterior noise is measured in decibels (dB). On the EU tyre label, tyre noise rating is represented as one, two or three sound waves.
One wave is for the best performing (i.e. the quietest) tyres, and three waves represents the worst performing and loudest. The current noise limit is three bars, while two meets future laws and one is a further 3dBs lower.
Tyre Labelling at Tyre City
At Tyre City, we stock an impressive range of affordable tyres from leading brands, including Michelin, Pirelli, Goodyear and Continental. All of our tyres feature EU labels, helping you choose the best models to suit your individual needs and your budget.