The truth is, day-to-day driving can take its toll on your car's tyres, which is no big surprise considering they are the only part of the vehicle that are in constant contact with the road surface. This is also a reminder of how important it is to check your tyres regularly to make sure you're not risking a fine and penalty points or, worse still, your safety.
The law dictates the minimum tyre tread depth that is allowed. As well as staying within the law, it's also important to make sure that the level of wear and tear is not putting your, your passengers and other road users at risk.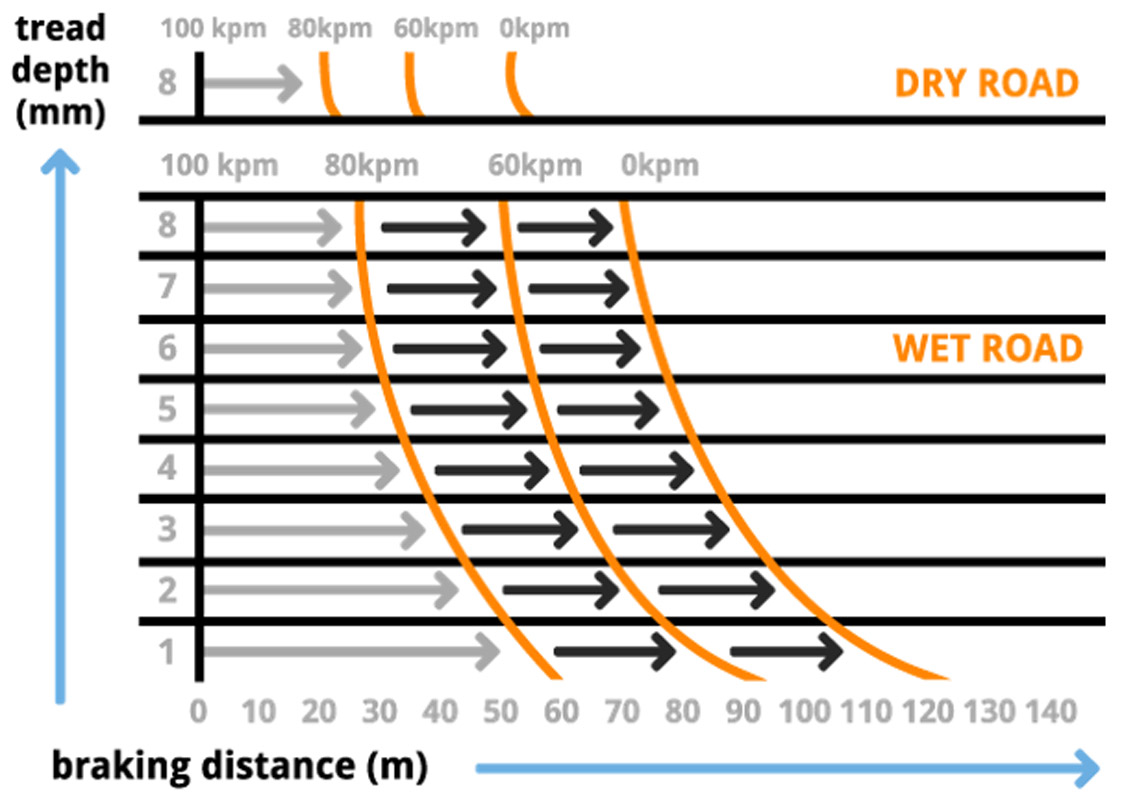 According to the law, the tyre tread depth must be at least 1.6 millimetres. However, it's important to note that this is the absolute minimum. If the tread measurement is between 1.6 and 3 millimetres, it's likely the tyres are unsafe and need replacing. Research shows that it can take a car with 1.6 millimetres of tread depth an extra eight metres to stop in wet conditions compared to tyres with 3 millimetres of tread depth.

Measuring The Tread
There are a number of different ways to check the tyre tread depth. For example, you could carry out straightforward surface inspection. The tread pattern around the tyre is a good indicator and the best place to look is the centre of the tyre. If there are clear signs of wear and tear, then it's worth carrying out a more detailed inspection to measure how much tread is left.
The most accurate way to do this is by using a tyre tread gauge - a specialist tool which allows you to measure the tread of each individual tyre quickly and easily. The good news is, tyre gauge devices are fairly cheap to buy, and it is often small enough to fit into your glove compartment or on your keyring. It's worth investing in this device, as driving with illegal tyres can result in a fine and penalty points on your licence.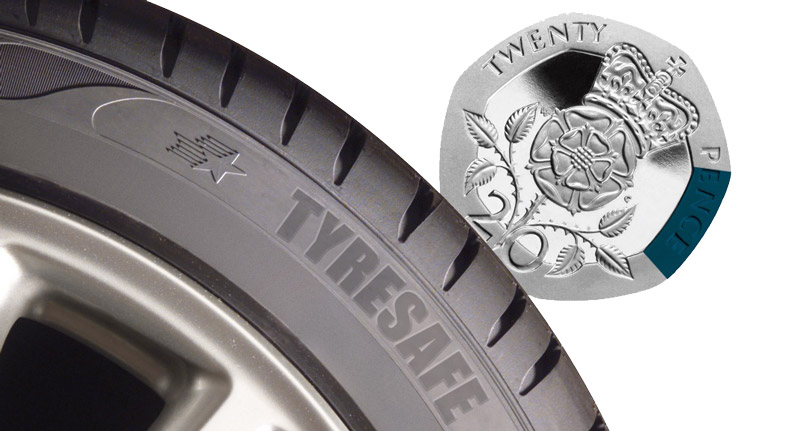 The third method is what is commonly called the '20 pence test'. The first step is to find the part of the tyre with the lowest tread then insert a 20p coin. If the coin's rim is visible, it's likely that the tyre depth is less than 3 millimetres and the tyre needs to be checked, and potentially replaced.
As the tread wears down, the checks should be carried out more frequently. This is particularly important in autumn and winter when poorer road conditions can really take their toll.

How Often Do Tyres Need To Be Changed?
There is no exact rule as to how long a tyre should last as it depends on how you drive and the conditions of the road surface. However, as an indication, a typical front tyre should need changing after around 20,000 miles, and a back tyre should be good for about double that.